Print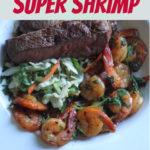 Super Shrimp!
Super Shrimp! No, this shrimp does not have a cape, its just Super Delicious!
Thaw your shrimp by placing it in a bowl under running cold water for about 2-3 minutes. If you are using raw shrimp, shell and de-vain the shrimp.

Heat a cast iron skillet and add the butter. Let the butter simmer and brown, stirring occasionally. This will take about 3 minutes.

Add garlic and saute until fragrant.

Add the shrimp and toss to coat with the butter.

Mix all other ingredients except for the cilantro and add to the pan.

Satue for another 5 minutes or until the liquid has coated the Shrimp or evaporated fully.

Add Cilantro and toss.

Turn the heat off and serve immediately.
Nutrition Facts
Super Shrimp!
Amount Per Serving (1 g)
Calories 167
Calories from Fat 59
% Daily Value*
Fat 6.6g10%
Carbohydrates 1.6g1%
Protein 22.7g45%
* Percent Daily Values are based on a 2000 calorie diet.